SHAX – the new cutter for non-precious metal.
Great performance, smoother surface.
A unique toothing for that unique bite.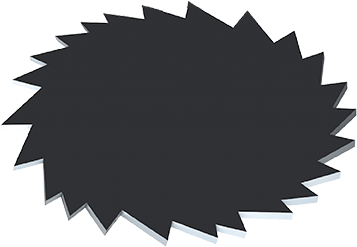 Non-precious metal can be a tough challenge, as everyone in the lab knows. To be more precise, conventional cutters usually don't remove much material and wear out quite quickly. In addition, they tend to leave a rough surface, which makes subsequent polishing more difficult.
Any dental technician wishing to remove a lot of material while at the same time creating a smooth surface has no other choice but to keep switching back and forth between many different tools. In a nutshell: Non-precious metal is a time-eater. At least until now, because help is at hand: SHAX, the predator hungry for non-precious metal.

Makes other cutters
look like small fry in comparison:
The new SHAX
made by Komet.
SHAX is the name of the new generation of cutters made by Komet. We chose this name because this innovative cutter represents a brand-new species in the realm of non-precious metal cutters. A species that combines two previously opposing strengths: effective substance removal and the creation of smooth surfaces. The SHAX cutter owes these unique assets to the patented blade geometry developed by Komet, where each tooth has its own unique height and depth and no two teeth are the same.
The result: An aggressive, effective cutter that shows non-precious metal the true meaning of fear and that no lab can afford to do without. SHAX not only saves you precious time, but it actually gives you extra time: additional lifetime. Despite its impressive performance, SHAX remains sharp and precise for an incredibly long time.
Unmistakable features of the new SHAX cutter:
Unbeatable performance while creating smooth, easy-to-polish surfaces
Aggressive and effective, yet elegant and easy to control
Available in 10 different sizes and blade geometries