Continually gaining popularity: Mechanical IPR to treat dental crowding.
Save time and effort during interproximal enamel reduction: With the new set from Komet.
Every patient longs to have beautiful, straight teeth, and every dentist or orthodontist works to make this dream come true. Unfortunately, treatment is often not as straight-forward as expected and can involve lots of time and work.
The preparation prior to applying fixed buccal or lingual braces or popular aligners is often hampered by dental crowding, particularly in adult patients with misaligned teeth. The interproximal reduction of dental enamel, also known as IPR, is therefore an indispensable part of any orthodontic treatment.
Anyone who has ever removed dental enamel the traditional way knows what a hard job it can be. Manual IPR can take hours, exhausting both the dentist and the patient. This can put the patient's patience to the test and strain the dentist's wrists.
The tedious and time-consuming manual method is typically performed using diamond coated strips with a honeycomb pattern. With this method, the dentist must keep checking how much substance has already been removed. It is not only extremely difficult to achieve an even reduction of the enamel with this method, but also very time consuming. In other words: Another typical case for Komet. We are always the answer to making daily life at the dental practice simpler, safer and more effective.
Dental crowding can be more easily treated with mechanical methods. To this end, we have a comprehensive range of innovative oscillating segment discs at your disposal.
With Komet, you can save up to a third of treatment time, and the physical strain on the dentist's wrist is significantly relieved.
Developed in close cooperation with Prof. Dr. Jost-Brinkmann of the Charité Berlin, Komet's IPR system of oscillating discs greatly increases the safety during stripping since the oscillating 60° segment discs have a minor pivot angle of 30°. The discs of Komet's IPR system save space and provide an unobstructed view during enamel reduction, thus minimizing risk of injury to the soft tissue.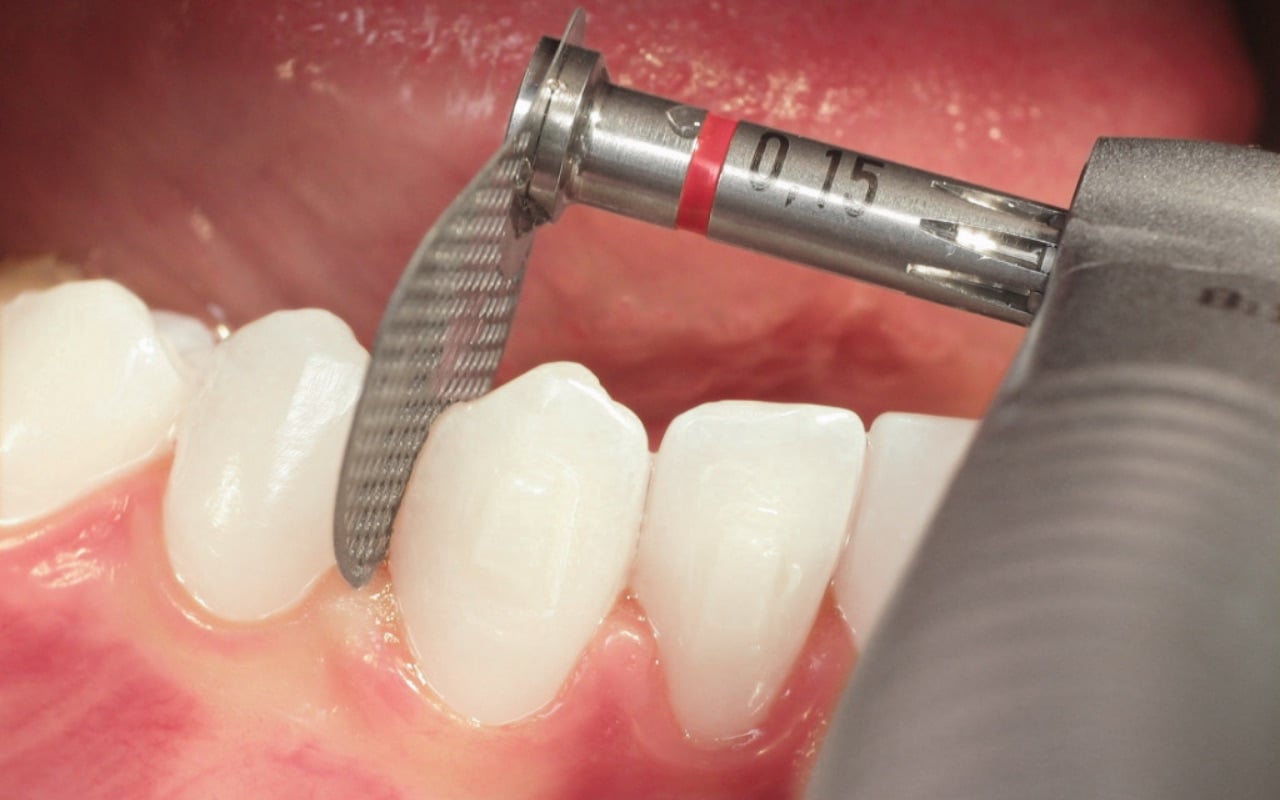 The advantages:
minimized risk of injury to soft tissues thanks to the oscillating function of the discs
perfect view and evacuation of chips thanks to the honeycomb pattern
less strain on the dentist during the treatment
greater comfort to the patient
faster and easier work to the benefit of the dentist
the required quantity of substance can be achieved with precision
The patented oscillating segment discs are available in the sizes that allow the removal of the usual quantity of enamel. They are used in the oscillating contra-angle OS30 provided by Komet.
Another professional IPR set was developed in cooperation with Dr. Thomas Drechsler. Tailor-made for use in combination with the oscillating segment discs, this set combines easier handling with an optimized clinical treatment, facilitating the work of orthodontists and dental assistants.
The patented oscillating discs come clearly arranged in a modular storage box with a practice-orientated design. Suitable for sterilization, this ergonomic storage box meets all criteria of efficiency and hygiene in dental practices.
Thanks to the various disc sizes and their logical arrangement in the storage box, inter-proximal accurate substance removal isguaranteed (i.e. 0.2, 0.3, 0.4 or 0.5 mm). A range of oscillating discs – coated on one or both sides – is available to remove substance using the step-by-step technique for reliable, reproducible results. The OS-discs are only authorized for use in the oscillating contra-angle OS30.
IPR is, of course, only one of many interesting topics about which we are going to report. If you want to be absolutely sure not to miss anything, we recommend that you subscribe to our newsletter. Thus, you will have all IDS-related Komet at Home News delivered directly to your inbox.
Do you still have questions? Contact your medical product advisor.