100 years
of preparation

for tomorrow.
Komet turns 100 years old – a reason to celebrate. Over the past century, we have evolved from a small company in Lemgo, Germany, into an internationally recognized expert in the dental industry. Starting with the production of rotary dental instruments, we continuously developed and enhanced our products and expanded our product portfolio. Our product's benefits always set new standards for the optimal treatment of your patients.
We look back on this history with pride. But instead of resting on our achievements, we look toward tomorrow's world with ambition – with the clear goal of accompanying you as a reliable partner on your way into the future.
Quality.
Innovation.
Reliability.
For more than 100 years, Komet has been a reliable partner for dentists and dental technicians worldwide. Throughout this time, we have impressed our customers with our extensive expertise in the industry and our in-depth understanding of their needs. Join us on a journey through history and see how we have been preparing for the future with our spirit of innovation and unfailing drive since the foundation of our company.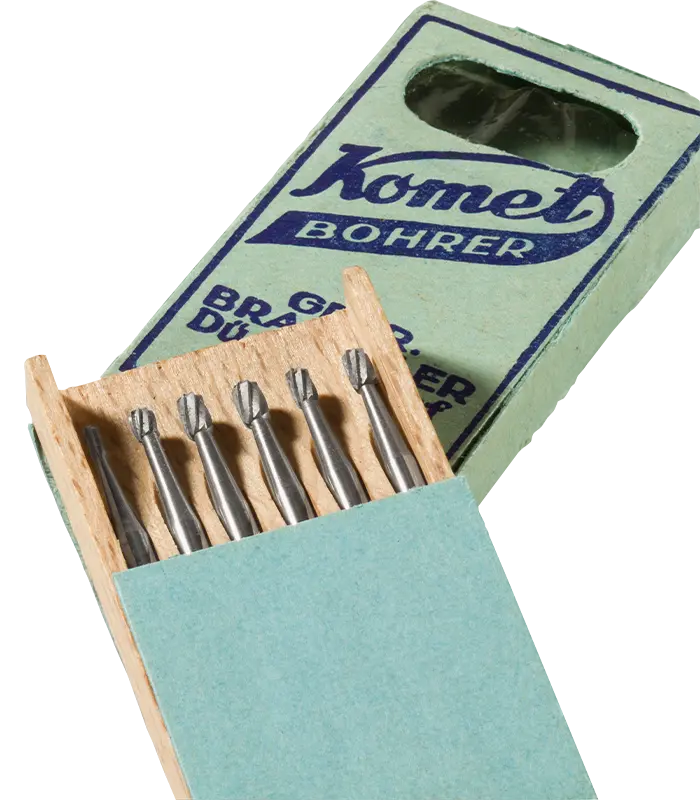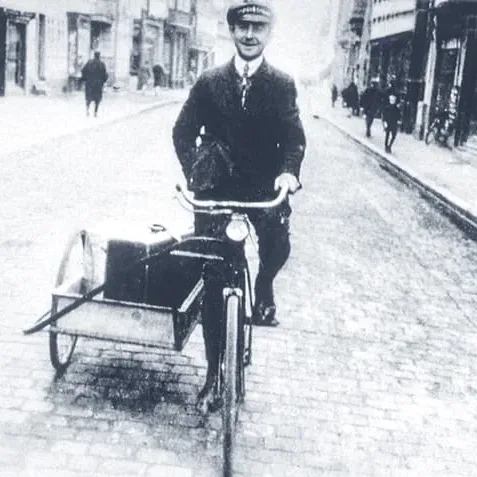 1923
How It All Began
Founded in 1923, the company Gebr. Brasseler produced the first rotary dental instruments under the Komet brand; the circumstances were anything but rosy. In addition to the generally prevailing inflation and unemployment, already established manufacturers made it difficult to enter the market by blocking the specialized trade.
But Komet quickly recognize the opportunities offered by direct sales, thus laying the foundation for close contact with its customers. The concept soon proved to be successful: Only a few years after publishing the first printed catalogs in Düsseldorf. We built connections with international markets where we presented ourselves as an up-and-coming, promising company
The brand name Komet was featured on the first advertising material. The idea for the brand name was born out of observing the first burs at work; when viewed in the light, the material removed by rotary instruments produces a tail that looks a lot like the tail of a comet in the sky. Today, the quality products made by Komet are synonymous with innovation, precision, and reliability – all over the world.
1943
A new chance for growth
"The circumstances can never be so adverse that they cannot be overcome by a better performance." – Peter Brasseler
Komet was not spared from the ravages of the Second World War. The production facility in Düsseldorf lay in ruins. However, this was no reason for us to admit defeat: With ambition, courage, and hope, we focused rebuilding in 1943 in Lemgo, Germany, where we had found our new home.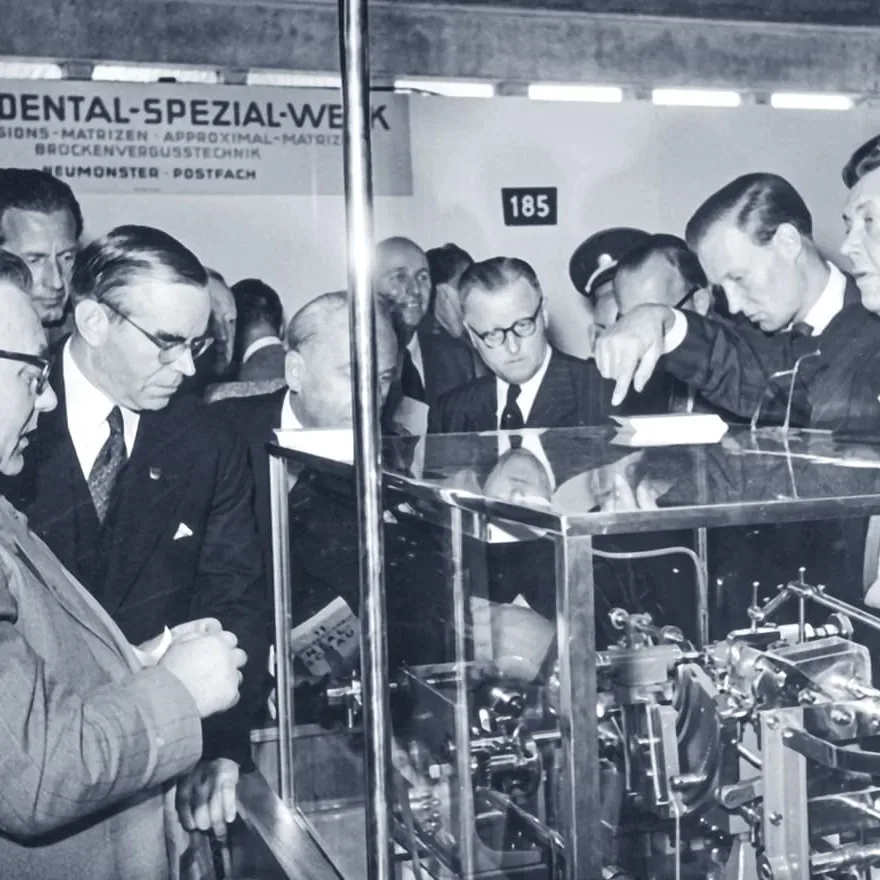 1950
A decade of innovation
The 1950s were booming with innovation: The economy had recovered from the consequences of the war and more and more young people were being systematically trained as skilled workers.
Komet took advantage of the economic upswing and established itself as a driving force for new products, new technologies, and the use of new materials. As one of the first manufacturers, we began producing instruments made of tungsten carbide as early as 1956. We made the material's special cutting ability and durability available to our customers.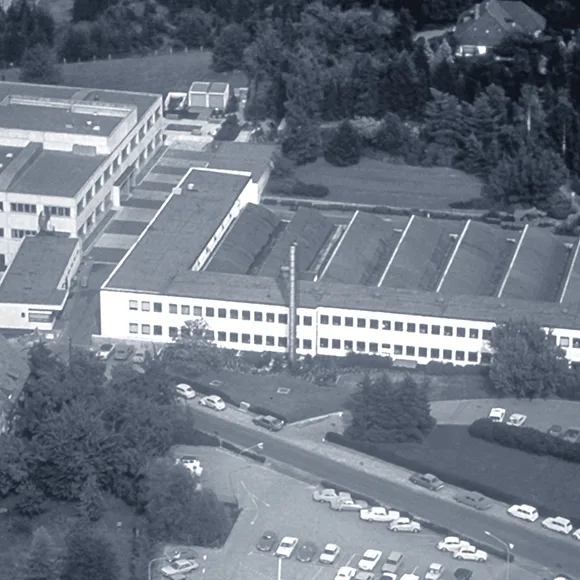 1973
All set for the next 50 years
In 1973, we raised a glass to the 50th anniversary of our company. After 50 years, during which we had demonstrated our expertise worldwide and participated in numerous trade fairs at home and abroad, the question was what is the secret of our success.
We did not have to think long about the answer. Our achievements are owed to the intensive contact with our partners, the direct and competent advice we give to our customers, and our constant focus on the future. We firmly believe that only customer-oriented work can lead to satisfactory results.
Exploration of international markets
In the years that followed, Komet grew continuously – Komet products made in Germany (Lemgo) were also well received internationally. Based on this continuous growth beyond the borders of Germany, we founded our own subsidiaries in France (1977), Italy (1986), Austria (2002) and the USA (2007). Dentists and dental technicians from almost 100 countries can now purchase our instruments for more efficient treatments.






Stagnation?
No thanks!
Komet achieved a lot in the past years. In addition to building an international brand identity, entering new markets, and modernizing our company, we have established ourselves as an expert at home and abroad – dentists and dental technicians around the world trust the quality of our products.
We have achieved all this by remaining true to our values. Apart from maintaining close contact with our customers, one thing is particularly close to our hearts: the constant strives to improve and develop our instruments to provide users and patients alike with the best possible treatment.
As a driving force in the dental industry, we reflect on numerous ideas and products that have changed dentistry. We would like to take this opportunity to introduce you to the most effective of them in greater detail:
First tungsten carbide bur with staggered toothing
Komet has been manufacturing drills made of tungsten carbide since the 1950s. This material enables the production of instruments with sharper and more precise cutting edges. In 1980, our experts presented the first carbide drills with staggered toothing. The introduction of this new manufacturing technology made it possible to produce smooth-running dental instruments that remove dental material efficiently while leaving a smooth surface on the tooth

S-Diamonds
In 2001, Komet developed a time-saving solution for crown preparation: S-diamonds for gentle, yet efficient treatments. Thanks to the unique combination of a structured blank and coarse diamond grit, these instruments remove dental substance with great efficiency.

Q-Finishers
The innovative cross-cut toothing of the Q finishers made by Komet revolutionized the processing of composite fillings in 2003. Whereas traditional treatments required three steps, Q finishers can do the job in only two – for effective, yet time and cost-saving finishing.

DentinPost
Since 2004, patients have been able to take advantage of a particularly esthetic dental restoration. Komet's tooth-colored DentinPost made of glass fiber-reinforced composite not only impresses by achieving a pleasing esthetic result, but also by its secure retention.
K1SM – CeraBur®
In 2007, Komet put another innovation on the market: the K1SM is a ceramic drill that enables minimally invasive excavation with particularly high precision. It is also distinguished by its impressively long service life. Thanks to its smooth, almost vibration-free operation, the K1SM is a particularly popular choice for the treatment of children.

F360
With the introduction of the rotary file system F360 in 2012, Komet has convinced even stubborn skeptics of the benefits of endodontic treatments. The system represents a complete solution that is not only particularly easy to use but which stands out for a fast and safe root canal preparation.

SHAX
Komet set new standards for work on non-precious metal alloys in the year 2020. The patented cutting-edge geometry of the SHAX cutter not only enables "greedy" substance removal, but also creates perfectly smooth surfaces that are easy to polish. These properties make the SHAX milling cutter the best non-precious metal cutter for dental technology.

DIAO
In 2021, Komet shines yet again with the introduction of another ingenious new product: DIAO, which stands out for its innovative diamond coating interspersed with ceramic pearls. Particularly sharp, yet easy to control, DIAO allows for precise preparations and more efficient treatments.
Procodile & Procodile Q
Procodile, a system consisting of reciprocating files with a variably tapered core, was developed by Komet as early as 2019, and its users continue to be thrilled by it. In 2021, the system was supplemented by the heat-treated Procodile Q file, which has since provided even more comfort and safety during use.

Looking
ahead
We will continue to incorporate the experience gained over the past 100 years into the development of new instruments and solutions in the future. At the same time, we will remain in close exchange with our customers – to prepare together for the world of tomorrow.